Properly prepare your roofing membrane for coating with our Roof Protect! This eco-friendly, biodegradable cleaner is designed to complement our RVRoofMagic and give you the best results from your roof coating application. Other cleaners leave streaks and residues that may jeopardize adhesion to a coating as well as potentially leaving live mold spores on the roof prior to application. Our Roof Protect emulsifies contaminants and provides improved surface preparation and adhesion by effectively removing oil, grease, mildew, dirt, and other soils from your roofing membrane. It also contains a mildewcide to kill any mold spores on your roof prior to application. You can also use Roof Protect annually to further protect your roof, allowing dirt, grease etc. to be removed, further extending your roof's service life. Roof prep with Roof Protect is required to validate our warranty. One gallon will last approximately 15 washes.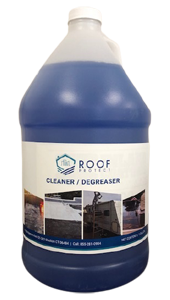 Directions for Use:
On your initial cleaning prior to the application of RVRoofMagic use a 1:5 ratio with water. For example, one cup of Roof Protect for every five cups of water. Wash down the roof with water, then scrub with a soft bristle brush, thoroughly rinse and let dry before application.
For subsequent cleanings, use a 1:15 ratio. If you are using a power wash with a maximum of 2000 PSI, begin at the lowest point on the roof and work upward. Once the highest point is reached, work down again with a final rinse to remove any excess contaminants from the roof.
Safety Measures: Use protective glasses and clothing when using this product. Do not use on soft painted surfaces at a dilution rate less than 1:30. You can view our safety sheet Roof Protect SDS
See SDS and Roof Protect specification sheet for precautions and additional information.