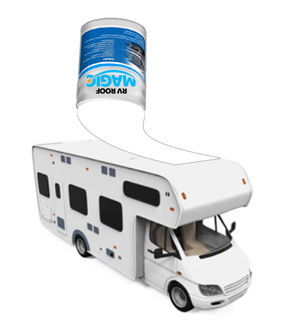 The science behind our product Chemical cross-linking

When we discuss "crosslink" it is really the process of our product forming a sequence of chemical bonds to join two polymer chains together. An object made of a cross-linked rubber is one single molecule. Ours which is an oxidative cross-link means it undergoes the cross-linking process when exposed to oxygen. These crosslinks tie all the polymer molecules together making them very strong enhancing tensile strength and decrease overall product degradation over the years.

We have created a picture to show the difference between a single polymer chain and our product which is a crosslinked network polymer. Imagine a spider trying to capture its prey in Figure 1 vs Figure 2. Now imaging your roof coating would you not want something that is chemically interlocked that provides significant adhesion to your roof?
A non-crosslink roof coatings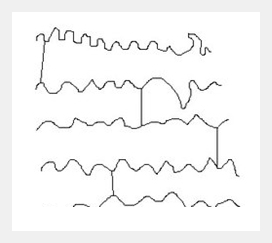 Our product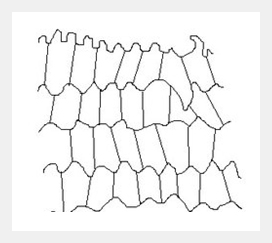 RV Roof Magic prides itself on manufacturing a proven product for the RV industry. RV Roof Magic is unique on all fronts. It never needs a primer, covers more square footage than other products and it dries rapidly, allowing our customers to get behind the wheel as quickly as possible in order to enjoy the RV'ing experience. Our product is manufactured according to GMP practices to insure identical consistency, texture, color and appearance. We maintain quality control by imprinting our products with lot number and manufacturing dates and maintain all records to ensure proper shelf life which guarantees our customers are getting the same consistent quaintly they have come to rely on over the years.
With over a 25-year history of success RVroofMagic has helped thousands get a new roof for a fraction of the cost of roof replacement. RVRoofMagic is specially formulated for RV's Trailers and Mobile homes that demand a highly flexible material, as our customers travel throughout the year. Its unique chemical and application characteristics have made it the choice for our customers.
The Benefits:
We have invested a significant amount of time and money years ago in developing our proprietary solvent. This specially formulated drying process allows for a chemical cross-link to occur; whereby our RvRoofMagic and the surface it is applied on becomes one in the same.
Can be applied at any temperature above 50 degrees!
Never a primer needed! Can be applied over EPDM, Metal, Fiberglass, TPO, Butyl Rubber, Alpha Roofs, and roofs previously coated with other roof coatings!
Will NOT cause streaking down the side of your RV
RvRoofMagic is UV and Ozone resistant
Apply today drive off tomorrow
Reflective white color
Solvent based coating to reduce cooling costs; key benefits to solvent vs water-based coating:

Longer life span
Humidity and temp have very little effect on dry time.
Quicker dry time
Highly durable
Less susceptible to environmental conditions
Ease of maintenance

Built in fungicide and mildewcide.
Single component product-No need for mixing additional components or measuring.
No thinning necessary
UV and ozone resistant
Waterproof's immediately (although we suggest applying three hours before any anticipated rain)
Easy clean-up with xylene
Tensile strength 1200 psi
56% volume solids by weight
A whopping 400% elongation
Provides a seamless, highly flexible and durable membrane. Once applied, your roof will appear as if someone put a single piece membrane over the roof. Never worry about seams again.