If you have an existing epdm roof, it is important for you apply a very light coat (a flash coat, approximately 4 mil or the thickness of 2 pieces of paper). Failure to do so will result in swelling of the membrane which will require additional days for the product to settle. The final coat will be at a 16 mil thickness. Divide the length of your rv by the number of remaining gallons, this number will tell you the length of the sections needed for each gallon. For example, if your trailer is 24 feet long, you will need 4 gallons. One gallon will be for your flash coat. The remaining three gallons will be for the final coat. After your flash coat, divide your 24 ft long tailer by 3 (the number of remaining gallons) resulting in eight-foot-long sections. Each of your remaining gallons will cover one of these 8 ft section.
Substrate to be coated MUST be dry initially. Once applied the product can handle a light rain after 3 hours assuming temps above 55 degrees. If any moisture is present at upon application, there will be blistering. If using a power wash to clean roof we suggest waiting 7 days before coating (if you are applying over a rubber roof). If the roof is lightly cleaned with a brush and minimal water, then coat in 2 to 3 days assuming those days were dry.
Roof Preparation and Application process
We suggest performing an inspection of your roof. Look for any separations in your seams. Also around your joints, AC's and vents check for any loose caulk or areas where caulk may be needed. Our Rubex caulk has been field tested to be compatable with our RVroofMagic, so it will not void the warranty. Be sure any silicone caulk currently on the roof is replaced with the Rubex caulk.
A light power wash if you have one is great otherwise a good bristle brush. The roof must be clean, dry and free of any oil, grease, dirt or loosely adhered coating. Surface should be cleaned with Roof Protect to ensure proper adhesion. We suggest our Roof Protect to thoroughly clean your roof. It was field tested to be compatible with the rvroofmagic so it won't void the warranty. Roof Protect emulsifies contaminates and provides improved surface preparation by effectively removing oil, grease, mildew, dirt, and other soils from your roofing membrane. You can also use Roof Protect annually to further protect your roof allowing and dirt and grease etc to be removed further extending your roof service life. The product is applied at approximately 50 sq ft per gallon. The easiest way to accomplish this is to chalk off your roof into 5 X 10 areas. Once you are done filling in one of those areas you should be done with a gallon of the RvRoofMagic. Be sure your roof is perfectly dry before application. Many customers will tape off their roof with the blue painter's tape to avoid any possible running. RVroofMagic is ready to use; thinning is not required. Mix for approx. 5 minutes with an electric drill. Application of the product is with a medium nap roller (3/8 inch) not a foam roller and chip brush around the corners and vertical surfaces. Be sure to put the lid on the can while you are applying the product. Failure to do so will allow the product to continue to cure and will become unstable and very thick. The product has a 5 year shelf life as long as you affix the lid properly so air does not get in. Average dry time: Dry to touch in 3 - 4 hours. Wait a full 24 hours before traveling. Should you choose "to apply" a second coat you will need to wait 24 hours. Rain should not be in the forecast on the day you apply the product. However, should a very light rain fall within 2-3 hours of application the roof is already protected. You may see rain dimples on the surface depending on the strength of the rain. If seams are not properly adhered it may cause the tape to "bubble" up or raise as will a rubber roof that lost adhesion to the wood substrate. Applying the product too thick will cause it to wrinkle.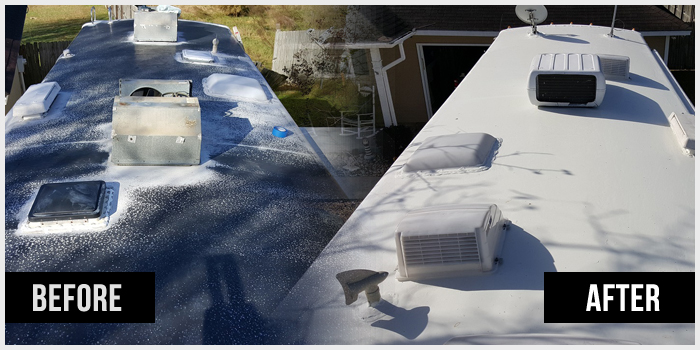 This product is for outdoor use. If you choose to use it indoors you will need a Niosh respirator available at Home Depot or Uline. As the product begins to dry any brush or roller marks will disappear and what is left is a seamless coating. It will be as if someone just installed a custom fit piece of membrane just for your RV. Apply today and drive away tomorrow! It's that easy. Clean up is with Xylene available at any paint store.
The product has a 4 years shelf life as long as you affix the lid properly so air does not get in.