Ready to use. Thinning is not necessary. Mix well before using.
Roof must be clean, dry and free of any oil, grease, dirt or loosely adhered coating.
Highly suggest cleaning your roof with our roof protect product available one our website
Follow our roof restoration procedures and always perform an adhesion test.
Third party coatings such as acrylics other elastomerics, any NON-silicone product
Equipment: polyester brush, medium nap roller 3/8 inch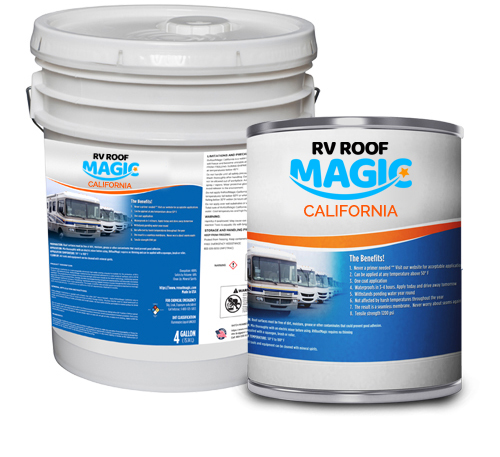 Brushes and rollers may be used for detail work such as edge termination, filling voids, pinholes and small cracks.
Apply RVRoofMagic California only to clean and dry sound substrates free of loose particles or other foreign matter. Your roof must be clean, dry and free of any oil, grease, dirt or loosely adhered coating. A light power wash, if you have access to one, is great. Otherwise, use a good bristle brush along with our Roof Protect. It was field tested to be compatible with RVRoofMagic California, Roof Protect emulsifies contaminates and provides improved surface preparation by effectively removing oil, grease, mildew, dirt, and other soils from your roofing membrane. It also kills any living mold spores.
RVRoofMagic is applied at approximately 50 sq. ft per gallon. Be sure your roof is perfectly dry before application. Many customers will tape off their roof with blue painter's tape to avoid any possible running. RVRoofMagic is ready to use; thinning is not required. Mix for approx. three-five minutes with an electric drill stirrer. Application of the product is with a medium nap roller (3/8 inch) (not a foam roller), and chip brush around corners and vertical surfaces. Be sure to put the lid on the can while you are applying the product. Failure to do so will allow the product to prematurely cure and become unstable and very thick. Do not apply product when ambient temperature falls below 50 F. Use within 90 days of receipt.
Cure Times
Dry to touch 4 Hours @75F
Tack free 12 hours
Recoat- 12-24 hours