One of the unique characteristics of RvRoofMagic is that it has been specially formulated to be compatible with 95% of roof surfaces without needing a primer, saving our consumers time and money! This makes RvRoofMagic a one-step process for putting an end to roof leaks.
The surfaces below are compatible with RVRoofMagic.
Alpha rubber roof made by Fleetwood RV
Fiberglass
Metal
Aluminum
EPDM
Can be applied directly over other elastomerics & acrylics; products such as Dicor, Kool Seal, Henrys, Flex Seal
Never a need for a primer
Butyl Rubber
Hypalon Rubber
Aged Vinyl. An adhesion test is suggested
TPO
Sprayed Foam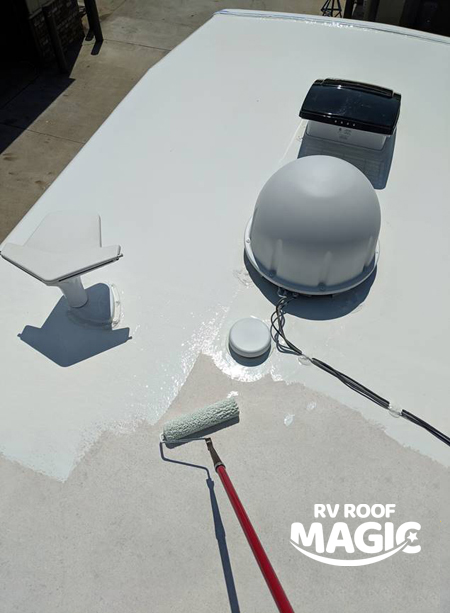 NOTE: Cannot be applied over silicone-based coatings
Wood: An oil-based wood sealer is needed on any wood surface as well as two coats of the RvRoofMagic. Please wait 24 hours between coats. Since we do not know the quality or condition of the wood any wood application are not covered by a warranty
For any other substrates please contact our office prior to application. Any other substrate may cause your existing roof to swell. If you are unsure of your roof type complete an adhesion test by coating a small area 2 ft X 2 ft and let dry before coating your roof.