We have been busy the last few months making some significant enhancements to our product. We have also added a new clear coat product for skylights called skylight.
PRODUCT ENHANCEMENTS
DOES NOT NEED A PRIMER UNDER ANY CIRCUMSTANCE
WARRANTY INCREASED TO 10 YEARS
INCREASED COVERAGE WHICH REDUCES TOTAL MATERIAL YOU NEED
CAN BE APPLIED DIRECTLY OVER

EPDM
TPO
HYPALON
FIBERGLASS
ROOFS WITH A 3RD PARTY COATING (NOT SILICONE)
URETHANE FOAM-MODIFIED BITUMEN-BUILT-UP ROOFING

NO MIXING OF A CATALYST THE CATALYST IS INCORPORATED INTO THE PRODUCT
WE HAVE INCREASED OUR SHELF LIFE TO 5 YEARS
POT LIFE IS 72 HOURS WHEN PRODUCT IS UNCOVERED
WE HAVE ADDED A MILDEWCIDE TO DETER MOLD AND MILDEW FROM GROWING ON THE ROOF
ELONGATIONS IS NOW 400%
TENSILE STRENGTH 1200 PSI !!!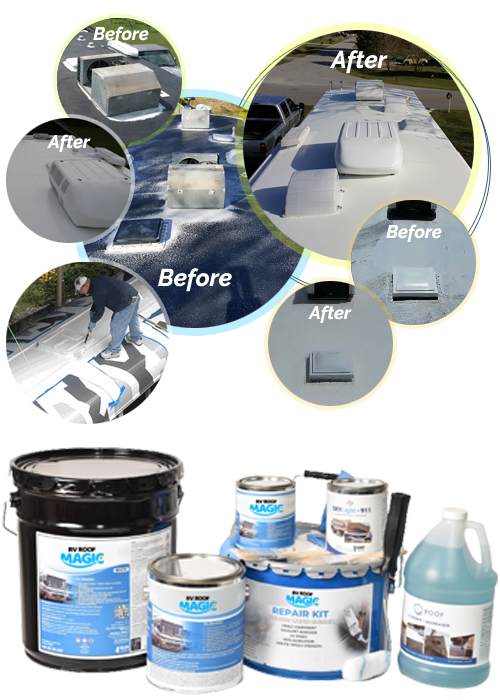 Feedback From Buyers

Hello, I just wanted to let you know your roof magic product is great stuff ! These are pictures when it was applied on my camper roof this past spring. But I also wanted to follow up with your company and let you know after a year it is still fantastic and lives up to all the hype you said it would. I recommend this product to anyone thinking about a roof coating. I have included some photos from start to finish of my camper. Thanks
SureBuilt Homes & Restoration
Vienna, Maryland

Guys here are some before during and after pics. Our shop is officially sold on the product. This is the 5th unit we did and every application has the same consistent results. The product dries to a very nice smooth seamless piece. Love the way the roller marks disappear and the thickness that it goes on. Next one we do I think we can put together a nice video.
JR
Biggelow