There are so many RV roof sealants on the market that claim to be worth the money, and it can be overwhelming to try to choose the right one for your RV. However, there's only one liquid RV roof sealant that can work on a wide variety of materials, never needs a primer, and has a 10-year warranty.
If that's not enough to convince you, don't worry. There are plenty of reasons why you should choose RV Roof Magic liquid roof sealant for your RV.
RV Roof Magic Works on Many Surfaces
Most liquid roof sealants are made for only one or two surfaces, so you need to be super careful when purchasing one. You have to ensure it will work for your roof material and any materials you've added over the years.
That's not the case with RV Roof Magic. In fact, this sealant can be used over all of the following surfaces:
EPDM
Alpha rubber roofs made by Fleetwood RVs
Fiberglass
Butyl rubber
Hypalon rubber
TPO
Metal
Vinyl (an adhesion test is required first)
RV Roof Magic can be applied over any non-silicone surface and even on top of products like Dicor, Kool Seal, Flex Seal, and other elastomeric and acrylics. It's truly an all-in-one sealant that every RV owner should have on hand.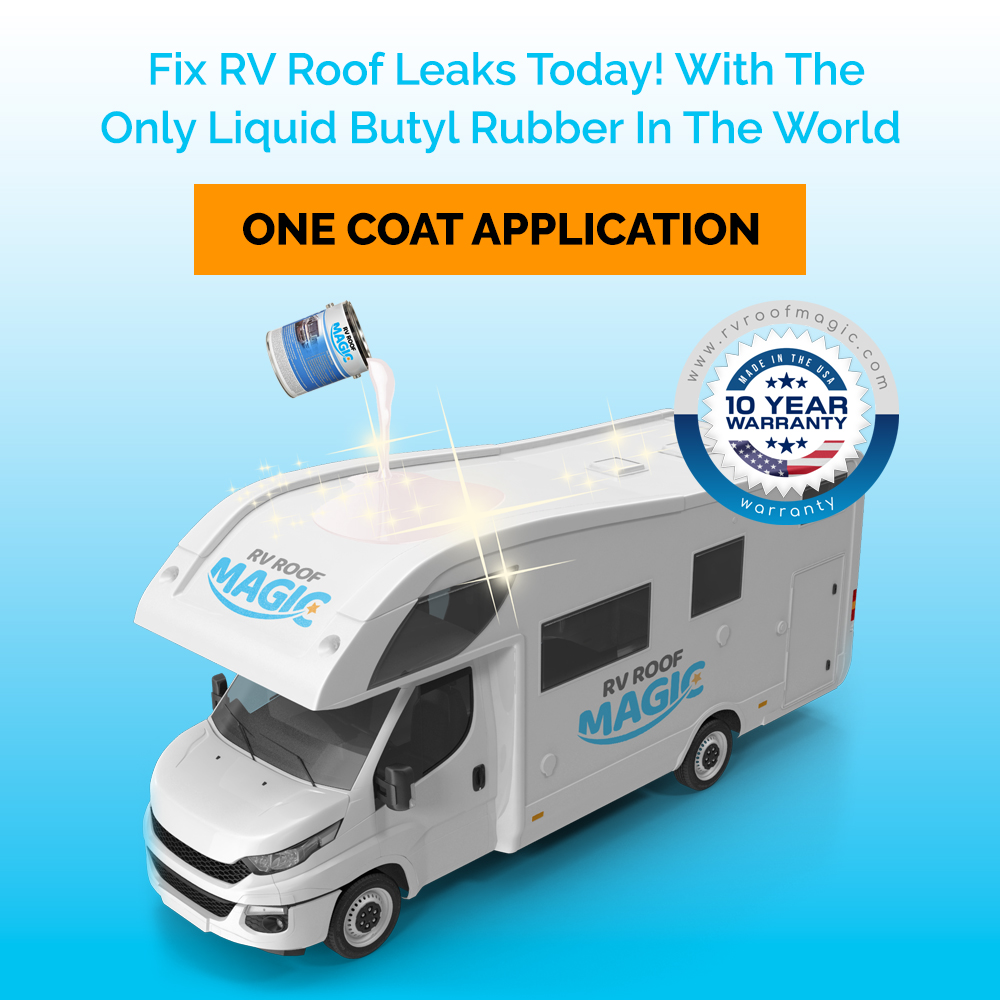 Benefits of Choosing RV Roof Magic Liquid Roof Sealant
Not only can you use RV Roof Magic on practically any roof material, but there are many other amazing benefits to choosing this sealant over others on the market.
Tons of research and time have gone into creating this proprietary solvent. It's been specially formulated to create a chemical cross-link to occur during the drying process. This means that as the product dries, it becomes one with the surface it was applied to.
Plus, it provides a seamless, highly flexible, durable roof membrane. Once applied, your roof will look like someone put a single-piece membrane over it. You won't ever have to worry about roof seams again.
Even better, you can paint RV Roof Magic with acrylic paint once it is fully dry. Wait 30 days after application to ensure the product has set in completely. Painting over this sealant will provide great adhesion and color penetration.
The benefits don't end there, of course. RV Roof Magic offers these great features as well:
Can be applied at any temperature (requires daytime temperatures above 50 degrees to dry waterproof within three hours)
It won't chalk like other coatings. As it ages, it will retain its reflective white color.
It doesn't need a primer to be applied under it.
It won't cause any streaking down your RV's sides.
UV and ozone-resistant
The solvent-based coating reduces cooling costs compared to water-based coatings.
Has built-in fungicide and mildewcide
It's a single-component product. This means you never need to mix in additional components, removing the need for proper measurements.
Waterproofs immediately (it's recommended to apply at least three hours before anticipated rain as a precaution)
It's recoat able and never needs to be torn off.
RV Roof Magic has proven to have a longer lifespan, higher durability, and less susceptibility to environmental conditions than other sealants on the market. Plus, it's incredibly easy to maintain. Simply perform regular cleaning and inspections on your roof, and you're good to go.
Final Thoughts
There's truly no better liquid RV roof sealant on the market than RV Roof Magic. It takes all the complicated steps, measurements, and preparation out of roof sealing. No matter your roof material, choose this single-step sealant to keep your RV roof in great shape.