RV leaks mainly occur in the roof of your RV. A damaged roof can be extremely detrimental to the value of your RV. Why? Because a damaged roof almost always means water damage will ensue.
And water damage is the real killer for RV's. Once water infiltrates the interior of an RV, due to a leaky RV roof, it can damage electrics, appliances, and can lead to the growth of toxic black mold.
Identifying Water Damage
The most obvious sign of water damage and a leak in your RV is staining of the vehicle's interior and materials. Wood, paper, and cloth materials will all take on a darker coloring after prolonged exposure to water. Early exposure to water stains the interior materials of an RV with a brownish color. An RV with serious water damage will have its interior materials turning black as mold begins to set in.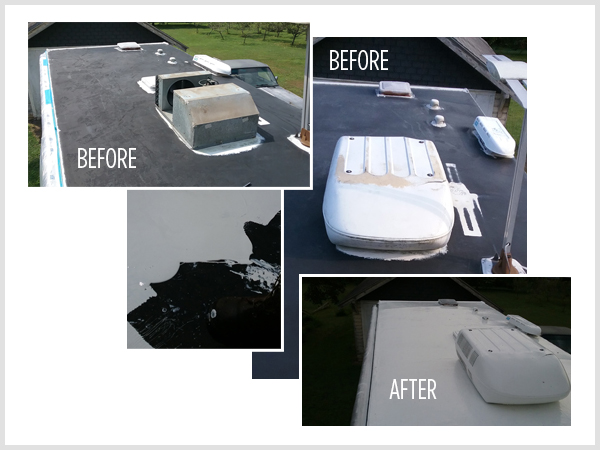 Finding signs of black mold in the corners or in certain spots of the RV is the number one, primary sign of a recreational vehicle that's been extensively damaged by water. Once you find a hint of any discoloration or water damage, try to follow the stain to see how far it goes. The farther it goes, the more extensive the damage.
Of course, all of that water damage could have been avoided by using a high-quality RV roof coating and sealant, but we'll get to that later.
However, signs of water damage can be much sneakier. An RV with signs of damp spots, discolorations, or splotches can still have water damage. A convenient way to check for water damage is to examine the outer screws of the RV.
The screws should be the same color as the body of the RV. If they appear rusty and brown, then they've been damaged by some type of water leak.
Also, make sure to inspect any areas that are sealed off by caulk. An RV with severely cracked or peeling caulk likely does not provide a proper seal and is a prime spot for water to seep into the vehicle's interior.
One last tip: check bottom compartments on the RV for water, as they tend to collect water that has poured in through the floors or the sides of the recreational vehicle.
When It's Too Much
You'll know the water damage of an RV is beyond repair if it exceeds the amount you wish to pay for repairs. Seriously, the best way to tell if a recreational vehicle has too much water damage to salvage is if the costs for repair exceed your expectations.
Fixing isolated places is much easier and cheaper than having to replace a whole floor, wall, or roof. As long as the roof or walls of the vehicle haven't completely rotted out, the salvaging will be much more manageable.
But at the end of the day, if you're willing to pay a high price, then the RV is likely salvageable.
Preventing Water Damage
Now that you've read about the worst-case scenario of extreme water damage, here are a few tips to help you prevent those scenarios from ever occurring:
Consistently inspect your RV's interior and roof for signs of roof damage. Roof damage usually appears in the form of punctured spots, cracks, and broken seams and seals.
If your roof is made of rubber and is only damaged in small areas, you can seal those spots with a handy tube of rubber sealing. Also, if caulking is faulty in certain spots, use a trustworthy, durable caulk to reseal those spots.