What would you do if you walked out to your RV one morning and discovered that the roof is leaking? You spent a lot of money on your RV, and you don't want a leak to cause damage to it. When you find a leak, even if it is a small leak, you need to take care of it right away. The best way to handle leaks and provide your roof with some added protection is by using liquid RV Roof Magic. It's a quality product that many RV owners swear by.
Why Choose Liquid RV Roof Magic?
You don't need to add a primer when you use this product, which makes it faster and easier to use than many other options for roof protection. It has a 10-year manufacturer's warranty and can add many years of life to your RV's roof before it needs another coat.
It can be applied on both horizontal and vertical surfaces, and a single gallon can cover 50 square feet. The product has a tensile strength of 1200 PSI. It is even saltwater resistant, which is beneficial for those who live near the ocean.
The product is durable and provides waterproofing, so you won't have to worry about leaks. It can stop leaks that you already have and prevent others from occurring. It is resistant to both cold and hot temperatures, as well as UV rays. The liquid RV Roof Magic is white, which means it will help to reflect the sunlight, keeping the RV cooler in the summer. This will be more comfortable when you are on trips or camping in a hot, sunny environment.
Will It Work on Your RV Roof?
You will appreciate that the liquid RV Roof Magic will work with many different types of roofs. No matter what type of RV you have, there is a good chance that you can use this product. You can add it directly to any non-silicone product, including Kool Seal, Dicor, and elastomeric roofs. It works with fiberglass, butyl rubber, metal, Hypalon rubber, and more.
Apply It Properly
Before you apply the product to your RV roof, you need to make sure any major repairs are taken care of, and then you'll need to clean the roof. The product is ready to use and only needs to be mixed before it's applied. After it is applied, it will be waterproof in just a couple of hours.
This is a relatively simple DIY project, but you could hire someone to apply it for you if you aren't comfortable getting onto the roof and working.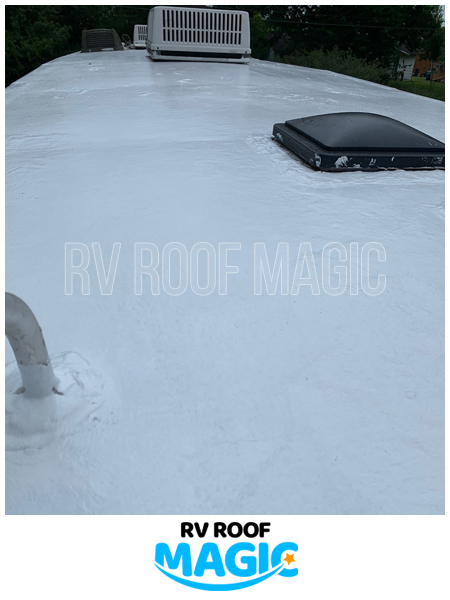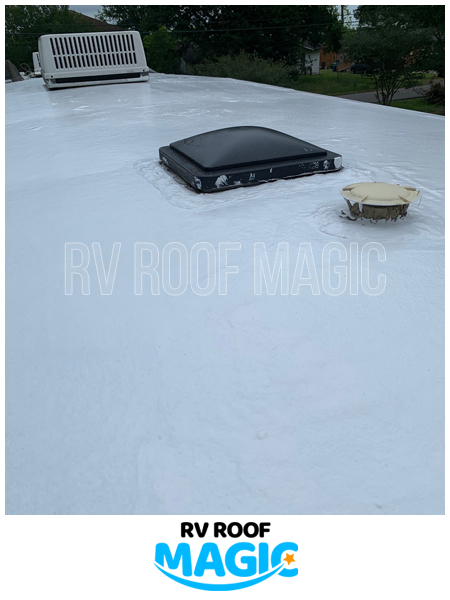 How Else Can Liquid RV Roof Magic Help?
While the product is most commonly used with RVs, you'll find that it can be used for quite a few other things as well. For example, it is a great option for trailers, mobile homes, shipping containers, houseboats, buses, and more. The qualities and benefits of the product help to make it a solid bit of protection for a host of different purposes.
Take Good Care of Your Roof
After you have applied the product to your roof, you will have some added armor to help keep your RV's roof safe. However, this doesn't mean that you no longer have to think about your roof. You still need to take good care of it.
Clean it a couple of times a year and inspect it for damage. Don't let the snow pile up on the roof, and don't leave the RV parked under trees where limbs could fall onto it. A little precaution will go a long way in preserving the longevity of your roof and your entire RV.